The Snowball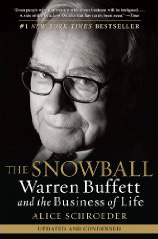 ACCOLADES FOR THE SNOWBALL
TIME: Five Best Nonfiction Books of the Year
Best of the Year: The Washington Post, People, Financial Times, BusinessWeek, Publishers Weekly
Best Business & Investing Book of the Year: Amazon.com Editors' Picks
Ten Best of the Year: Janet Maslin, The New York Times
Best Biographies of the Year, Top 100 Editors' Picks: Amazon.com

"If the replication of any great achievement first requires knowledge of how it was done, then The Snowball, the most detailed glimpse inside Warren Buffett and his world that we likely will ever get, should become a Bible for capitalists."
—Washington Post
"Will mesmerize anyone interested in who Mr. Buffett is or how he got that way. The Snowball tells a fascinating story."
—New York Times
_____________________________________________________________________________________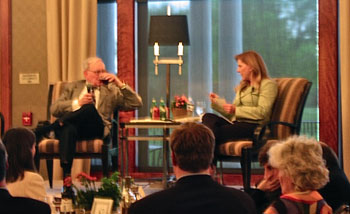 The Snowball is the much anticipated book recounting in intimate detail the life and wisdom of the man known as "The Oracle of Omaha": Warren Buffett. Though other writers have penned thousands of pages about Mr. Buffett and his extraordinary gifts as a businessman and investor, The Snowball offers an unprecedented portrait not just of Buffett's business and investing strategies, but of all the life experiences that combined to make him the man he is today.
When he agreed to cooperate with Alice Schroeder on this book, for the first time ever Buffett gave complete access to a writer. He spent spending thousands of hours responding to her questions and recalling his childhood, while also opening his files to her. He encouraged his wife, children, sisters, friends, and business associates to talk to Schroeder, to create a complete portrait of the man as he could not even see himself. It was an act of courage, as The Snowball makes immensely clear.
An unvarnished portrait of an American icon, The Snowball tells the most fascinating business success story of our time.
_____________________________________________________________________________________
"The mandatory book to read in these times of financial crisis."
—Forbes
"The most authoritative portrait of one of the most important American investors of our time."
—Los Angeles Times
"Schroeder's brave book offers a close-up of [Buffett's] cellulite, but more fairly, in the context of a genuinely delightful character... History's most legendary investor was not a cartoon but a real live human being. And still, somehow, deeply admirable."
—MICHAEL LEWIS, The New Republic

"Schroeder, a former analyst, has a meat-and-potatoes style that matches the homespun wisdom of her subject...Now more than ever, Buffett's emphasis on fundamentals seems like genius. It's the perfect moment for a great book on an immensely inspiring capitalist."
—People
"It is refreshing that Schroeder keeps her tone free of judgment or awe...[a] rich, surprisingly affecting biography."
—Publishers Weekly
"An unprecendented look at the hidden life of an American icon....Schroeder's account is comprehensive and her eye for the telling detail keen."
—Bookmarks Magazine
"An instructive chronicle of financial success at a moment when financial failure is on everyone's mind...There are lessons to be learned... Most tellingly: The next time Warren Buffett warns of a crisis, we'd all better listen."
—The Wall Street Journal
"Even people who don't care a whit about business will be intrigued by this portrait...Schroeder, a former insurance-industry analyst, spent years interviewing Buffett, and the result is a side of the Oracle of Omaha that has rarely been seen."
—Time
"A penetrating and personal look at the Oracle of Omaha...[gets] deeply inside the head of the man who achieved such amazing long-term investment returns that some academics believe them to be a fluke."
—BusinessWeek
"[The Snowball] has the bouncing vitality of an early Sinclair Lewis novel."
—The Times Literary Supplement
"Ms. Schroeder's real contribution is her own investment expertise which enables her to make the convoluted financing schemes over the last fifty years understandable to lay readers and truly instructive to the business information junkie."
—Washington Times