About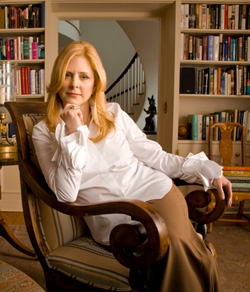 Named by Risk and Insurance magazine as "One of the most respected--and fearless--thinkers on Wall Street," Bloomberg columnist and journalist Alice Schroeder is the author of The Snowball, Warren Buffett and the Business of Life and the Business of Life, a #1 New York Times and #1 Wall Street Journal bestseller.
Schroeder began her career by spending more than a decade as a CPA and auditor at Ernst & Young. Subsequently she worked as a regulator at the Financial Accounting Standards Board. At FASB, Schroeder oversaw the issuance of some of the most significant rule changes to curb abusive accounting by reinsurers, including SFAS 113, Accounting and Reporting for Reinsurance of Short-Duration and Long-Duration Contracts and EITF Issues 93-6 and 93-14.
In 1993, she become one of Wall Street's most notable insurance research analysts, first as a Managing Director at Oppenheimer & Company, then at PaineWebber, and finally at Morgan Stanley. During this period, Wall Street clients voted her the highest-ranked property-and-casualty insurance analyst on Institutional Investor's All-America Research team two years in a row. Schroeder was named Analyst of the Year by The Review, a reinsurance industry trade publication, and became a widely-cited expert on the impacts of the September 11th attacks on the reinsurance industry. She also was named one of "40 People to Watch" by A.M. Best, and one of "35 Rising Stars" by Business Insurance magazine.
During her Wall Street career, Schroeder was the first and only analyst to obtain an interview with the famously reticent Buffett after she introduced Wall Street clients to Buffett in Omaha as part of her coverage of Berkshire's acquisition of General Re. In January 1999, her coverage initiation report on Berkshire Hathaway became a best-seller for PaineWebber and described a new, unpublished valuation method for Buffett's company that has become widely adopted today. Schroeder was for many years a noted presence during Berkshire shareholder meetings and hosted an exclusive dinner highlighted by her annual interview of Buffett.
In 2003 Schroeder took a leave from Morgan Stanley to begin five years of research and writing for what would become the ultimate analysis of Warren Buffett's life - The Snowball. Schroeder gained unprecedented access to Buffett's personal papers and files, friends and family, and unlimited time for interviews and questions. She uncovered a never-before-seen account of Buffett's upbringing and early history and a fine-grained level of detail of his relationships, investing and philanthropy.
When it was published in September 2008, Snowball debuted at #1 on the New York Times, Wall Street Journal and Publisher's Weekly lists of hardcover nonfiction best-sellers. It was hailed by New York Times reviewer Janet Maslin as one of her ten favorite books of 2008.
Time Magazine and People named Snowball one of the ten best books of the year. Snowball also appeared on best of the year lists issued by The Financial Times, BusinessWeek, USA Today, and The Washington Post. Snowball was also named a Top 100 Editor's Pick, the #1 Business and Investing Book of the year, and one of the Five Best Biographies of the Year by Amazon.com.